Is it time for a Lighting Audit? - PTX Electric
What is a Lighting Audit?
PTX Electric's recent lighting audit story.
Prologue:
Over the past several years PTX Electric has been invited to prepare and perform electrical lighting audits. Some of the clients we have provided Lighting Audits for are Property Management Companies, Facility Managers, Co-operative housing, and Self-managed Strata Complexes.
In January of 2022 we performed a lighting audit for a Co-operative house complex in the coquitlam, port moody and port coquitlam area. The property details at this site involved 86 units, several parking areas, walking paths, a swimming pool, and a basketball court.
One of our electrical technicians performed the lighting audit over a three day window in which we determined the existing lumen levels, the dark spot area, the causes of dark spots, existing style of lighting, estimated cost of lighting, existing lighting controls, what the weaknesses were in the lighting system, and wiring condition in the lighting poles and junction box.
First Steps
We started by gathering relevant information about the property through history documentation and on site inspection. With this information our electrical technician was ready to write a report, prepare recommendations and prepare a customer presentation of our on site findings.
Our Report Included:
A comprehensive spreadsheet and detail of the existing lighting
Provided several Topographical maps to illustrate the illumination issues such as:

Tenant/member safety concern
Potentials areas to improve
Provided an illustration of a finalised lighting layout

Provided an all inclusive project budget for the lighting upgrade
Submitted a schedule and implementation plan for budgetary purposes.
Our Presentation:
We presented the highlight of our findings
We delivered our thoughts and logic for the recommendations
We showed the housing cooperative council how to use/navigate our submission documents, images and report.
Finally what the stata/council should expect from an electrical lighting Audit is:

Accurate Project Budget Cost
Conscope congruency (RFP ready)
Detailed Scope of Work
Projected schedule to complete the work
RFP Ready
Where Lighting Audits are of Value
Residential
In most instances general lighting repair and maintenance is completed by the homeowner. Most often, an electrician is only called in when problems arise.
Commercial / Industrial
With a commercial or industrial property some general lighting maintenance may be completed by the facility staff but in most cases your friendly neighbourhood electrician is called in to do the heavy lifting.
In the majority of cases commercial and Industrial Lighting systems are more complex, designed with 347 voltage power supply, time clocks, DDC or other specialised building controls.
Lighting Audits cover more than just Interior lights:
Parking lot lighting
Building Decor, Landscape and Ambiance lighting.
Safety and Security lighting
Vagrancy deterrent lighting systems
The information acquired during the audit process forms the basis of our report that details the existing conditions and the opportunity for improvement and implementation of energy-saving measures.
Based on our findings we perform a deep dive analysis of your existing lighting system which enables PTX Electric to provide a detailed lighting report that includes:
Recommendations for improvement
Existing Energy consumption
Potential Energy Savings
Current applicable Hydro Rebates.
Fixture repairs or replacement plan
Safety concerns
Proposed plan for future options and capital budget planning
The main focus of a Lighting Audit is to gather and document the total property lighting system for Coverage, Functionality and Efficiency. The information acquired during the Lighting Audit can be utilised for future maintenance repairs, lighting upgrades and energy-saving measures.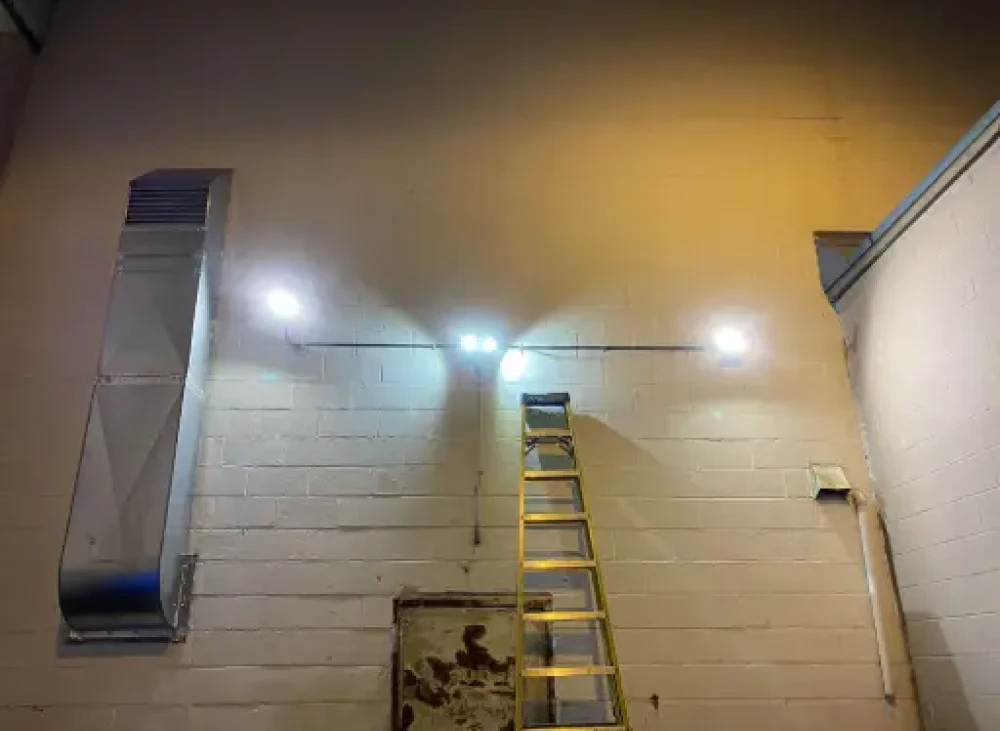 Who Needs a Lighting Audit?
Residential (Play it safe)
Residential lighting audits should be completed every 5 years. This would be primarily for maintenance and electrical safety purposes.
More importantly, residential customers need a complete full house Electrical Audit. There are many hidden electrical issues that can create a fire hazard and should be inspected, identified and corrected.
If you have already scheduled a Home Electrical Audit, the lighting audit is included. A full house Electrical Audit should be completed once every 3-5 years. PTX has a new Blog coming soon that will cover Full House Inspections.
Another cool maintenance feature we offer with our Full House Electrical Inspection is Infrared Imaging. For an additional fee we can take a thermal picture of the electrical panel and potential high risk building areas to determine if there are high spots. Based on our findings appropriate repairs or further investigation is undertaken.
Commercial / Industrial Properties
Interior and Exterior Lighting audits should be completed annually.
Interior lighting should be audited and maintained bi-annually.
Frequent inspections and maintenance will reduce lighting outage and eliminate safety and security issues.
Well maintained and operating lights reduce Energy consumption and increase life span of the bulb, ballasts and fixture.
Exterior light maintenance requires more frequent (TLC) tender loving care as it is exposed to a more harsh weather environment such as extreme cold, wet winters and hot summers. Fixture interiors condensate and rust and the exterior gaskets and casings deteriorate over time.
If you have a complete building electrical Audit completed every 2 years the lighting audit is included. Play it safe
Lighting Design Building Blocks
A lighting audit helps educate property owners regarding lighting systems and helps identify ways to achieve energy saving, reduce liability issues and security dark spots. To do that, a qualified electrical expert must obtain several areas of data from the client. Relevant set history and electrical building data will help the electrical technician to develop the best approach and property assessment that will reduce project cost and increase potential hydro rebate opportunities.
Owner / Manager
Full Name and Address.
Facility type and building occupant capacity.
Detailed Hydro bill, consumption history.
Customer expectations regarding lighting initiative.
For best results, Commercial, Industrial properties should provide both Architectural and Reflected Ceiling plans.
Potential future renovation plans.
Room intended use for light level assessment.
Floor and ceiling plans where the fixtures are to be located and any special features of the property.
Occupant Load
Some information can seem redundant although when you take into consideration light deflection and refraction we don't want to end up with shadows and dark work areas.
If the site is commercial office space work schedules are required including after hours overtime etc. must be included in the final analysis.
The audit may require the number of people who are expected to work in designated areas and utilise a particular fixture.
The number of occupants will help establish average daily light lighting requirements. This information helps determine the number of fixtures and total light output.
WIth certain facilities staff interviews are a critical part of the audit since people have different lighting needs based on specialties.
Electrical Contractor
The dimensions of every room and ceiling height.
Determining the number and type of lights.
Current type of lighting, age, location, wattage, number of lamps, ballast type (electronic or magnetic), etc.
Window opening size and daylight impact.
Identify all Light Fixtures
Working with the property owner, obtain a detailed plan of each fixture and show how they're interconnected. Fixture identification or a numbering system reduces confusion and helps make this task easier. Based upon what the audit results PTX ELectric will provide a detailed plan that will include:
Propose potential lighting equipment to be used c/w (manufacture/type/light temperature/lumens/warranty)
Recommendation for pole heights for best lighting coverage. Complete with required extension, yokes, or brackets.
Recommend lighting lumens per area
Topo map of proposed lighting coverage
Propose lighting solutions that will reduce site safety and security hotspots
Provide an annual maintenance schedule to maintain lighting performance
Provide a detailed Scope of work including materials and planned man hours and miscellaneous costs.
Deliver a comprehensive project cost proposal complete with a timeline and Schedule.
Some Benefits of an Lighting Audit:
When you have an Lighting Audit completed the Electrical Expert records the location of every lighting fixture, automation control and manual components. Even if the management firm decides to delay the project until the following fiscal year the Audit report is essential for short and long-term maintenance repair. As with the Marigold case overview there were numerous concerns identified as Urgent or Unsafe conditions.
The audit report information defines key areas where temporary repairs need to be addressed to make the facility safe until the project moves forward. Identified below are some of the key components addressed in the Lighting Audit.
Interior and Exterior:
What is controlling the lighting
The fixture condition
Age of the controls
Condition of the existing light fixtures
Are the Exit and Egress lighting functional
Is the Lighting functional
Condition of the light poles and interior wiring.
Capture lumens per area (light level metering). To be completed after dark.
How many Light standards are not working and suggested repair
Determine safety and security implications that may exist within property due to lack of exterior building lighting.
Lighting Audit Cost
Residential:
Residential properties are less complex and PTX Electric can provide a fixed cost to visit and perform a lighting audit of your home. To receive the best value for your dollar spent we recommend you complete a full house electrical audit at the same time. Play it Safe and save money.
Commercial / Industrial cost:
There is no set cost for these types of properties as they vary significantly in size and detail requirements. When an Audit is required we provide a detailed price to perform the audit and the cost will be determined by the complexity and size of the project.
Conclusion
Lighting audits can be very simple in nature and grow in magnitude based upon the client and property type.
PTX Electric has become very proficient in performing lighting audits and have completed many audits for our commercial, strata, industrial customers. We have consistently reduced operating and maintenance costs through our creative designs and energy saving concepts.
With most of our trusted customers our cost plus open book project delivery model saves them substantial dollars while maintaining budget estimates.
---
---